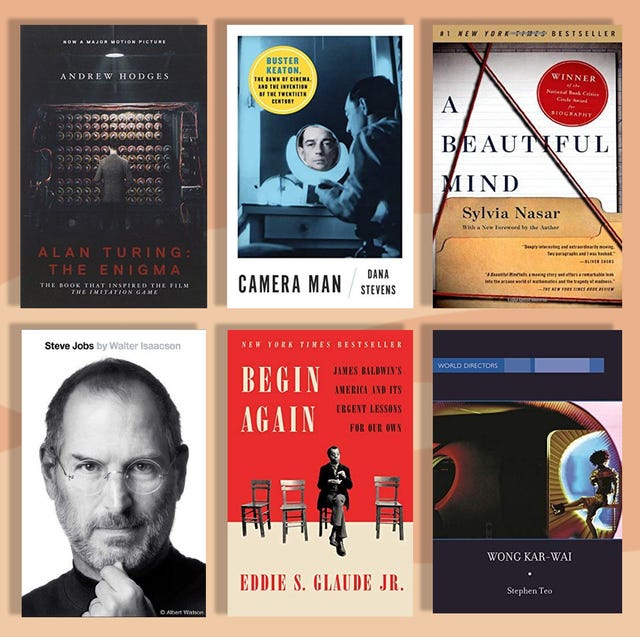 Sarah Kim
Biographies have always been controversial. On his deathbed, the novelist Henry James told his nephew that his "sole wish" was to "frustrate as utterly as possible the postmortem exploiter" by destroying his personal letters and journals. And one of our greatest living writers, Hermione Lee, once compared biographies to autopsies that add "a new terror to death"—the potential muddying of someone's legacy when their life is held up to the scrutiny of investigation.
But despite its long history dating back to ancient Rome and Sumeria, biography as a genre didn't really pop off until the middle of the twentieth century, when we became obsessed with celebrity culture. Since then, biographies of presidents, activists, artists, and musicians have regularly appeared on bestseller lists, while Hollywood continues to adapt them into Oscar bait like A Beautiful Mind, The Imitation Game, and Steve Jobs.
Why do we read so many books about the lives and deaths of strangers, as told by second-hand and third-hand sources? Is it merely our love for gossip, or are we trying to understand ourselves through the triumphs and failures of others?
To keep this list from blossoming into hundreds of titles, we only included books currently in print and translated into English. We also limited it to one book per author, and one book per subject. In ranked order, here are the best biographies of all time.
Advertisement – Continue Reading Below
50
Crown
The Black Count: Glory, Revolution, Betrayal, and the Real Count of Monte Cristo, by Tom Reiss
49
Farrar, Straus and Giroux
Ninety-Nine Glimpses of Princess Margaret, by Craig Brown
48
Inventor of the Future: The Visionary Life of Buckminster Fuller, by Alec Nevala-Lee
47
Free Press
Thelonious Monk: The Life and Times of an American Original, by Robin D.G. Kelley
46
University of Chicago Press
Frank Lloyd Wright: A Biography, by Meryle Secrest
45
Ralph Ellison: A Biography, by Arnold Rampersad
44
Oscar Wilde: A Life, by Matthew Sturgis
43
Beacon Press
A Surprised Queenhood in the New Black Sun: The Life & Legacy of Gwendolyn Brooks, by Angela Jackson
42
Atria Books
Camera Man: Buster Keaton, the Dawn of Cinema, and the Invention of the Twentieth Century, by Dana Stevens
41
Algonquin Books
Empire of Deception: The Incredible Story of a Master Swindler Who Seduced a City and Captivated the Nation, by Dean Jobb
40
Vintage
Penelope Fitzgerald: A Life, by Hermione Lee
39
Red Comet: The Short Life and Blazing Art of Sylvia Plath, by Heather Clark
38
Pontius Pilate, by Ann Wroe
37
Brand: History Book Club
Bolívar: American Liberator, by Marie Arana
36
Charlie Chan: The Untold Story of the Honorable Detective and His Rendezvous with American History, by Yunte Huang
35
Random House
Savage Beauty: The Life of Edna St. Vincent Millay, by Nancy Milford
34
Simon & Schuster
Steve Jobs, by Walter Isaacson
33
Brand: Random House
Véra (Mrs. Vladimir Nabokov), by Stacy Schiff
32
Greenblatt, Stephen
Will in the World: How Shakespeare Became Shakespeare, by Stephen Greenblatt
31
Crown
Begin Again: James Baldwin's America and Its Urgent Lessons for Our Own, by Eddie S. Glaude Jr.
30
St. Martin's Griffin
The Mayor of Castro Street: The Life and Times of Harvey Milk, by Randy Shilts
29
The Brontë Myth, by Lucasta Miller
28
University of Minnesota Press
Heartbeat of Struggle: The Revolutionary Life of Yuri Kochiyama, by Diane C. Fujino
27
British Film Institute
Wong Kar-Wai: Auteur of Time, by Stephen Teo
26
Penguin Books
The Journey of Crazy Horse: A Lakota History, by Joseph M. Marshall III
25
Oxford University Press
The New Negro: The Life of Alain Locke, by Jeffrey C. Stewart
24
Amistad Press
Ida: A Sword Among Lions, by Paula J. Giddings
23
Farrar, Straus and Giroux
The Death and Life of Aida Hernandez: A Border Story, by Aaron Bobrow-Strain
22
Simon & Schuster
Ali: A Life, by Jonathan Eig
21
Random House Trade Paperbacks
Catherine the Great: Portrait of a Woman, by Robert K. Massie
20
Vintage
Anne Sexton: A Biography, by Diane Wood Middlebrook
19
Harper Perennial
Joan of Arc: A History, by Helen Castor
18
Knopf
The Equivalents: A Story of Art, Female Friendship, and Liberation in the 1960s, by Maggie Doherty
17
Random House Trade Paperbacks
The Rise of Theodore Roosevelt, by Edmund Morris
16
Picador USA
The Song Poet: A Memoir of My Father, by Kao Kalia Yang
15
Simon & Schuster
Frederick Douglass: Prophet of Freedom, by David W. Blight
14
Scribner
Wrapped in Rainbows: The Life of Zora Neale Hurston, by Valerie Boyd
13
The Dead Are Arising: The Life of Malcolm X, by Les Payne and Tamara Payne
12
Holt Paperbacks
W.E.B. Du Bois: A Biography 1868-1963, by David Levering Lewis
11
Penguin Books
Washington: A Life, by Ron Chernow
10
Penguin Classics
The Twelve Caesars, by Suetonius
9
Simon & Schuster
A Beautiful Mind, by Sylvia Nasar
8
Princeton University Press
Alan Turing: The Enigma, by Andrew Hodges
7
Beacon Press
Looking for Lorraine: The Radiant and Radical Life of Lorraine Hansberry, by Imani Perry
6
Amistad Press
Barracoon: The Story of the Last "Black Cargo", by Zora Neale Hurston
5
Harper Perennial
Frida: A Biography of Frida Kahlo, by Hayden Herrera
4
Liveright Publishing Corporation
Shirley Jackson: A Rather Haunted Life, by Ruth Franklin
3
Picador
Prairie Fires: The American Dreams of Laura Ingalls Wilder, by Caroline Fraser
2
Vintage
The Power Broker: Robert Moses and the Fall of New York, by Robert A. Caro
1
W. W. Norton & Company
The Hemingses of Monticello: An American Family, by Annette Gordon-Reed
Advertisement – Continue Reading Below