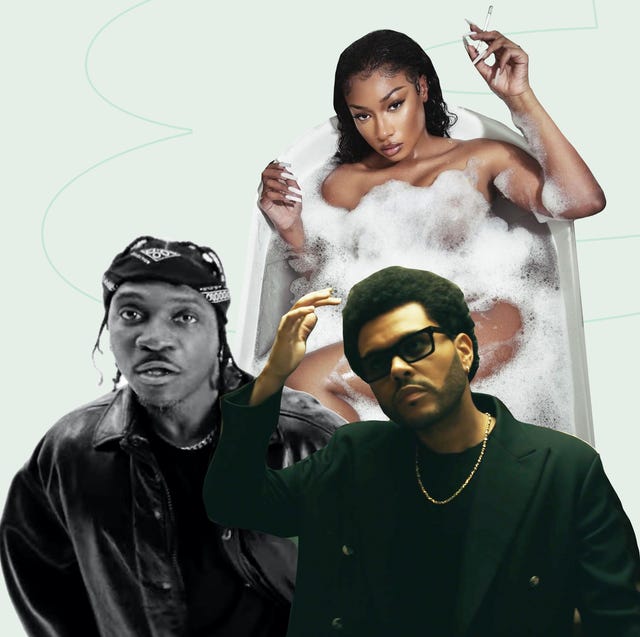 Courtesy
2022 is nearing its end, and though this year has brought a number of ups and downs (which is putting it lightly), it has delivered a consistent stream of good music. We've seen the revival of pop icons Beyoncé and Taylor Swift, along with the rise of Steve Lacey, plus return of legendary bands like Paramore and The Red Hot Chili Peppers. And just when we thought the music industry was done bearing gifts (because truly, how much better can it get?), Rihanna surprised us all with her first song in six years. All of that is to say: the world may keep changing, but great tunes will always prevail. If you need a refresher on this year's new releases, look no further. Below, we've curated a list of the best songs of 2022.
Advertisement – Continue Reading Below
Taylor Swift, "Sweet Nothing"
If you've ever wondered how Taylor Swift and Joe Alwyn's relationship is going, listen to "Sweet Nothing." In the Midnights track, Swift describes her longtime boyfriend as a calm and reliable presence amidst the chaos of Hollywood—a pure and true love. In a lullabye-esque hum, she sings, "Outside they're push and shoving / You're in the kitchen humming / All that you ever wanted from me was / Sweet nothing." Maybe she finally found the one.
I listen to this song far too often; it's a bad habit. Bad jokes aside, "Bad Habit" is a banger. Lacey's yearning vocals, paired with the track's punchy melody, make for a catchy earworm that wont get out of your head. It's no wonder the track has been trending for weeks now.
Rihanna is finally back, people. She graced us all with her dreamy vocals on "Lift Me Up," which was crafted specifically for Black Panther: Wakanda Forever. The slow-paced song was an unexpected release for Ri, who has been teasing new music for years now—but we're not complaining. Hopefully, this soothing track is the beginning of a fruitful revival.
After five long years, Paramore finally made its comeback with "This is Why," a song about how everyone has an opinion about everything. In the brooding track, lead singer Hailey Williams reminds us that not all our thoughts need to be shared. In fact, it might be best to keep it to yourself.
Maggie Lindeman, "She Knows It"
Lindemann's surprising pivot to pop-punk music proves that the genre is alive and well. "She Knows It" tells a story about an unavailable "twin flame." "I like a girl that's got a boyfriend," she sings in the intro. "Can't seem to get her out of my head / And she knows it should be me in her bed / Yeah, she knows it, she knows it, she knows it." Though I hate to see Lindeman down in the dumps, I'm glad she's found a way to channel that pain into a new classic.
As the saying goes, what was once old is new again. Thankfully, The 1975 caught the memo and crafted this gem of a track for its latest album, Being Funny In a Foreign Language. "About You" sounds just like old-school The 1975, in that it's fit for somebody's coming-of-age rom-com. Lead singer Mathew Healy croons, "Do you think I have forgotten," before vocalist Carly Holt sings, "There was something about you that now I can't remember / It's the same damn thing that made my heart surrender." Romance, drama, and a duet fit for karaoke! What more can you ask for?
Sam Smith & Kim Petras, "Unholy"
Smith and Petras came out the gate swinging with "Unholy," a thumping track about all that happens after hours. With sultry lyrics and a music video that'll make just about anyone clutch their pearls, "Unholy" is the ultimate party anthem. Since its release, the track has broken streaming records, making the pop duo the first non-binary and trans artist to top the Billboard Hot 100.
Flo Milli's confidence has a way of transcending her music and flowing straight into its listeners. Her latest single, "Conceited," is the latest track to hold that effect, thanks to its perfectly vain lyrics. After all, you can talk like that "when you're really that bitch." Flo might not need an ego boost, but if you do, let this song do the work for you.
King Princess, "For My Friends"
King Princess knows how to write a romantic hit ("Holy" speaks for itself), but in "For My Friends," she serenades her childhood best friends instead of a lover. "These girls have been through the pits with me, and the more time I spend with them as an adult, the more I'm reminded that they are my home," she said. If you want your friends to know you're thinking about them, go ahead and send this to the group chat.
Members of The Red Hot Chili Peppers and Paramore should talk if they haven't already, because they both have plenty to say about the state of society. Honestly, can you blame them? In "Fake as [email protected]," vocalist Anthony Kiedis sings about the "doom and gloom" we constantly face. Somehow, with poetic lyrics and the band's classic rock sound, The Red Hot Chili Peppers are able to make it all seem manageable. At least for the time being.
Tyler Childers, "Can I Take My Hounds to Heaven?"
Childers gives folk music a blues-inspired reboot with "Can I Take My Hounds to Heaven?" from his latest album of the same name. The self-aware track celebrates being a flawed human, judgment be damned. As he says, "If I can't take my hounds to Heaven, if I can't hunt on God's land / I'd rather load my dog box up and go to Hell with all my friends."
Gilla Band, "Eight Fivers"
Gilla Band spent all of its money on "shit clothes." The group's trippy song, "Eight Fivers," sounds like a shopaholics confessional. But if you listen closely? It's something more. Esquire's profile of Gilla Band might give you a few hints as to what the music's all about.
Even with lyric changes (which btw also happened to inspire Monica Lewinsky to file her own request), there's no denying that "Heated" is one of the best songs off of Beyoncé's seventh studio album, Renaissance. The cut, which see Drake as a collaborator, is a bouncy club track perfect for vibing out to during peak summer. And the outro of the track sees Queen Bey going off like never before—almost as if, in that last minute, Sasha Fierce herself grabbed the mic and said "My turn." And too that, all we can say is thank you Sasha. —Ammal Hassan
New on the scene R&B girl group Flo is not here to play games. The British beauties took the Internet by storm with their breakout track "Cardboard Box" this year, and it only takes one listen to understand why. The song is a certified bop—and the sound (and fashion) Flo is channeling here is reminiscent of some of the best R&B girl groups from the 90s and early 2000s, leaving us feeling a perfect mix of both nostalgia and awe. –AH
At this point, it is no secret that we here at Esquire believe everything BTS touches is gold (it is). Even still, "Yet To Come" left us wonderstruck. The single is one of their only new tracks off of their new anthology album Proof, and before announcing their new era as a band, the emotional song took fans on a journey with them back through their near-decade ride. In the track, the South Korean septet reassured fans that there are new, perhaps even better moments that lay ahead. "Was it honestly the best?/'Cause I just wanna see the next," they sing. –AH
2022 is the year Doechii cements her place in the mainstream. "Persuasive" is more than just a rap song—it's innovative and fluid, refusing to be confined to a single sound. The Florida rapper's flow is equally playful, keeping you guessing as it switches things up, again and again. –AH
Already featured on our best songs of summer 2022 playlist, Burna Boy's "Last Last" is a cultural moment. The body shaking Afrobeat track is all about the inevitability of heartbreak, coping with the lows it brings, and, eventually, learning to move on. Burna Boy reassures the broken-hearted that in the end, they'll come out victorious. "You go bow for the result oh/Nothing to discuss oh,"he sings. –AH
Rina Sawayama, "Catch Me In The Air"
The second single off her upcoming album, Hold The Girl, is dedicated to Rina Sawayama's mother, who raised her all on her own. That was a triumph, no doubt, but the ode to their troubles sounds breezy, vibrant, and downright irresistible. –AH
With every new release Normani guarantees that she's here to make an impact. Unlike her previous singles, however, "Fair" is a lot more personal. The track offers a stripped-down R&B sound with relaxed beats and a dreamy falsetto in the background vocals. The beat is a perfect match for the vulnerable message of hurt and bitterness Normani is trying to get across – "Hearts didn't break down the middle/Tell me, how did that happen," she sings. Fair is a damn near perfect addition to any breakup playlist. –AH
Maggie Rogers, "That's Where I Am"
In her first release since 2020, Maggie Rogers is born anew. Her hair is short, and her new sound is electric. Bringing with her a vibe reminiscent of the late '90s, early aughts, "That's Where I Am" marks a new era for Rogers, one that is bound to be fresh and absolutely unforgettable. After all, the song, which is her first single off her upcoming album Surrender, is an anthem for new beginnings–"I found a reason to wake up/Coffee in my cup, start a new day," she sings. Thanks to this track, we too have found a reason to wake up and start a new day. —AH
Omar Apollo, "Tamagotchi"
In the first single off his newest album, Ivory, Mexican American artist Omar Apollo does what he does best–play around with his sound till it is unique, innovative, and a total bop. A mix of Spanish and English, this track produced by The Neptunes boasts a cool, wavy, and upbeat R&B sound that gets and, perhaps more importantly, keeps you grooving. —AH
Earl Sweatshirt, "Old Friend"
You'll be hard-pressed to find a more insightful and concise statement on the COVID-19 pandemic than Earl Sweatshirt's opening lines to "Old Friend": "Strong spirit where the body couldn't get asylum / The cost of living high, don't cross the picket line and get the virus / Wild cat has got 'em in a bind, stay inside." He tightly captures the frustration, paradoxes, the tragedy of the first two years of the pandemic. With references to cabin fever, isolation, fear, and loneliness, he covers an incredible amount of ground in just over one minute–a masterful exhale of thought and emotion. —Matt Miller
In 2021, Wet Leg exploded out of the Isle of Wight with the viral hit "Chaise Longue," a chic, pulsating post punk track about a French reclining sofa. But the magic of Wet Leg wasn't just isolated to one breakout song. Their next singles were equally cool–promising that the band had a lot more to offer on its debut album. In April, Wet Leg released its first full-length record, which thankfully does not disappoint–with 12 tracks that live up to the potential of "Chaise Longue." Stand out among them is the wonderfully charming middle finger, "Ur Mum," which absolutely demolishes a shitty ex in the catchiest way possible. Take, for example, this scorched earth burn: "When I think about what you've become I feel sorry for your mum." And that's only the opening line of the song. From there, Wet Leg doles out more hilarious scorn, a wonderful hook, and hands down the best scream you'll hear in a song this year. May it be a warning to any assholes out there. —MM
The Weeknd, "Out of Time"
Who would have thought the Jim Carreyaissance would happen in 2022 by way of The Weeknd? Yet, there he is as the sultry-voiced host of The Weeknd's smash hit Dawn FM and as some sort of creepy mad scientist at the end of the "Out of Time" video. We're here for either version of Carrey, though–especially when he provides the outro to The Weeknd's silky and longing third single from Dawn. Thanks to atmospherics from a sample of Tomoko Aran's "Midnight Pretenders," "Out of Time" has a glistening, '80s yearning–a late night ballad full of regret. "And I remember when I held you / You begged me with your drowning eyes to stay / And I regret I didn't tell you," The Weeknd sings, with a vocal performance so aching you can't help but believe he means it. — MM
As Horsegirl tells it, they wrote "Anti-Glory" "almost by accident, while messing around with an old song during rehearsal," they said in a statement with the single. "The song fell into place immediately, and looking back, we have no idea how we wrote it." But nothing about "Anti-Glory" feels accidental. Finding its groove instantly, the song maintains its potential energy through a mesmerizing verse and a punchy chorus of "Dance! Dance! Dance! With me!" If this is what comes from an accident, then we're afraid of what comes next. —MM
The God of Coke Rap finds a new way to spit coke lines—this time with 88Keys and Kanye West lacing beats as he sneers and boasts, riding elite production in the only way that a hustler can. It's often not so much his lyrics as the way he delivers them that puts Push above the rest, and you can pick your own favorite line to menace the neighbors with, but the best example is probably his most regal: "They mad at us / Who wouldn't be? / We became everything you couldn't be / Everything your mama said you shouldn't be / The Porsche's horses revvin' like 'Look at me!' —Darryl Robertson
Jazmine Sullivan, "Roster"
Sullivan is having a beautiful year. On "Roster," a bluesy tour-de-force from the deluxe edition of her Heaux Tales album, she sings from the perspective of a "player by nature," a woman with a rotating cast of men at her beck and call. The song also serves as a recruitment pitch—she's looking to fill one empty spot in her Rolodex, but only if a potential partner understands the rules of engagement. Sullivan's vocal performance is typically commanding—by turns sweet and scratchy, brooking no dissent—and the production is a less-is-more triumph of choppy acoustic licks and rapid-fire handclaps. "Toxic, call me toxic," Sullivan sings. "But you'll never call me stupid." —DR
Future Feat. Drake and Tems, "Wait for You"
Guided by a sample of Tems' "Higher," Future Hendrix and 6 God dive into familiar territory on "Wait For U," rolling through verses detailing complicated relationships and lavish lifestyles. "Every time I sip on codeine, I get vulnerable," Future raps, while Drake does his Drakes'-out, "I sit on my balcony and wonder how you feelin'." It's a long-overdue first Hot 100 No. 1 hit for Future as a lead artist, and another victory in a lengthy list of successes from the friends and frequent collaborators—while also keeping Tems' hot streak rolling. —DR
A lovelorn ballad that pairs acoustic introspection with Afrofusion rhythms, CKay's "Emiliana"–much like his international smash "Love Nwantiti"—flaunts the hitmaker's ability to hit the heart and the hips with the same arrow, tossing in a Soulja Boy reference for good measure. While emo and Afrobeats might sound like a one-night stand on paper, they're bound to snowball into a full-fledged affair–and maybe even produce some offspring—if the Nigerian singer continues this winning streak. —DR
Megan thee Stallion, "Plan B"
Megan Thee Stallion's "Plan B" started as a snippet from an untitled, unreleased track performed during her set at Coachella. When a clip of the performance hit Twitter, fans begged for a recorded version–which they received just one week later. Sampling a remix of Jodeci's 1995 hit "Freek'n You, "Plan B" finds Meg spitting scathing shots fired at her ex. And, it's some of the best stuff ever. Go Megan. —DR
Gunna Feat. Future and Young Thug, "Pushin P"
"Pushin' P," the dizzying trap ballad of Gunna, Future, and Young Thug, found major success thanks in part to Gunna's shape-shifting "P" lingo. But sonically, the track flys thanks to lines like "Pointers in the Patek and the piece, I'm pushin' P." All three rappers buy into the P-word rundown like they're playing a game of Scrabble, and their combined swagger is simply too towering not to inspire. —DR
Doga Cat is a star. With the Afrobeats shuffle, and brain-worming hook, "Woman" bodied radio stations with raps like: "They wanna pit us against each other when we succeedin', for no reasons/ They wanna see us end up like we Regina on Mean Girls." Now the third Top 10 hit from her blockbuster Planet Her effort, Doja's "Woman" makes all Main Pop Girl debate for 2022 look increasingly childish. —DR
Singer, songwriter, and producer Amber Mark packs enough psychedelic exploration to fill an album into the three-minute run time of "Bliss," which surrounds her retelling of infatuation's thrill with sea-submerged synths, deliberate drums, and heaven-borne backing vocals that further flesh out the off-the-charts delight she's experienced. —DR
With Kendrick Lamar leaving TDE, the future of the label is left in the hands of artists like Doechii, who's signing was announced in March alongside the release of "Persuasive." Doechii is not only a fascinating rapper, she is a titillating singer. It looks like TDE gon' be alright. —DR
Benny the Butcher, "10 More Commandments"
Benny The Butcher breathed new life into a classic on "10 More Commandments," where he follows the late B.I.G.'s lead with new laws of underworld dealings, including the 2K-centric "no social media postin'." It's only right that he got Diddy to follow up his bars with a shit-talking session, making us feel like it's '97 all over again. —DR
EarthGang feat. feat. J.I.D, J. Cole, "Waterboyz"
Whenever members of Dreamville link up on the same song, dope shit happens. "Waterboyz," a standout from EarthGang's latest album Ghetto Gods is no different, as the Atlanta duo enlist the talents of JID and J. Cole. EarthGang pull off a memorable performance alongside their Dreamville peers, J. Cole continues his white-hot streak of features this year, and JID anchors the song with its most impressive verse. In a concise 18 bars, JID maintains the narrative integrity of "WaterBoyz," while adding commentary on the dangers of greed. Good shit. —DR
O70 Shake, "Skin and Bones"
"Skin and Bones" is a hell of a ride. For three and a half minutes, the beat swirls and mutates behind 070 Shake's vocals, as she weaves together her own unique take on a love song, singing, "We been smokin' gas, yeah, this is so romantic/ I never wanna press fast forward." It's disorienting, intoxicating, and addictive all at once, mirroring the emotional roller coaster ride of young love itself. —DR
Lucky Daye won his first Grammy a few weeks after releasing his second LP, Candydrip, which often evokes R&B's past via Ohio Players-styled cover art and lush tracks by Silk Sonic producer Dernst "D'Mile" Emile II. But on the album's (sort of) title track, D'Mile lays down thumping hip-hop breakbeats and booming bass as Lucky Daye teases out the ecstasy and ambivalence of a relationship that might not last: "We ride expensive highs; we tried to end it twice / But maybe you're the one." —DR
FKA Twigs' mixtape Caprisongs is one of her better projects to date. It's most upbeat and feels liberated, and "meta angel" is an especially beautiful record. Here, Twigs croons about about having a deeper voice that provides her with all of right answers and helps get rid of the negativity in her head. —DR
"I've been goin' through something/ Be afraid," Kendrick Lamar cautions in the intro of Mr. Morale & The Big Steppers opener "United in Grief." As it closes and gives way to "N95," he wastes little time making good on that warning: in his first verse, he takes aim at everything from "designer bullshit" to "fake woke" attitudes before clanging in with a loud "Bitch! You ugly as fuck!" as resounding as the song's backing hi-hats. Sonically, it's everything fans have been waiting for in the five-year gap between albums, complete with Lamar's patented vocal fluctuations that come at a moment's notice and production that allows him to puff his chest in its verses as easily as he croons in its bridge. Its combative lyrics are too, offering people plenty to chew on and dissect on umpteen listens. —DR
On "Walkin," Curry is back in full force. His signature intensity comes through and transforms the angelic sample into something menacing and enthralling. At almost five minutes long, the extended run time gives his lyrics some breathing room, as well as providing space for a long, head-bumping chorus that incorporates the cynicism and braggadocio fans expect and love. And, as the drums switch around at the halfway point and the hi-hats begin to fire at double speed, Curry speeds up to a furious, machine gun pace that carries the second half weightlessly. —DR
Bia Feat. J. Cole, "London"
J. Cole has been shredding beats to pieces as of late. Bia, the Medford, Massachusetts MC, has also been tearing shit up. The two linked on "London," a head-knocking braggadocious record that finds Bia and Jermaine Cole talking greasy, and being aggressive. Dreamville's head honcho actually revealed that he was afraid to hop on the record because Bia's verse was bananas. "I thought about this song for a month straight, it was my favorite song and I only heard it one time. She hit me recently and sent me the song (she musta knew I wanted to hear it again!!!) and I was just grateful to have it in my possession," Cole wrote on Instagram. "When the thought and conversation came up about me adding a verse, I was excited but genuinely nervous cuz I didn't even see how the song could be better after what she did to it," he explained. "I didn't want to fuck nothing up! I'm grateful I Ended up catching the right wave." —DR
Phoebe Bridgers, "Sidelines"
Ever seen that meme where it's a dark, creepy house next to a bright pink one? This song is both houses. At first, "Sidelines" sounds like it could be about the saddest thing you've ever heard. Listen deeper and you'll hear an airy optimism as Bridgers croons about relatable stuff like going back to school and taking care of houseplants. If "Sidelines" is any indication, her next LP might be another classic. —DR
Tove Stryke, ""Show Me Love"
Short, sweet, and to the point, Swedish pop belter Tove Styrke's ode to romance balances the goofily romantic with the unabashedly lustful. Styrke's soprano is perfectly suited to pop that front-loads emotion and melody, and on "Show Me Love," she gives a winning performance, fully occupying the song's center stage as she wails about her deep-seated need for "something more than [her] imagination." —DR
Haily Whitters, "Everything She Ain't"
The highlight from the country singer's third album, Raised, was this folksy, hand-clapped country personal ad, which shows off the Iowa singer's knack for homespun humor and everyday pathos. It remains to be seen if it's too rootsy to become a radio hit, but its singsong chorus and feel-good message make "Everything She Ain't" a keeper. —DR
Sabrina Carpenter, 'Fast Times'
Carpenter's "Fast Times" is an ode to living in the moment and dealing with the consequences later. This rising pop it-girl has been in demand all year: She has a new fragrance out, just went to the Met Gala, has a whole Samsung deal, and more. Thankfully, she's still finding time to drop bops. —DR
Madonna VS. Sickick, "Frozen (Fireboy Remix)"
When Canadian EDM producer Sickick made Madonna's gothiest Ray of Light gem into a chopped-n-screwed TikTok sensation last year, it was only a matter of time before Madge got in on the fun. By enlisting Nigerian star Fireboy DML to duet with her on this moody, soulful extension of the remix, she showed the same savvy about new currents in global pop that made the original song a hit in '98. Turns out "Frozen" is forever. —DR
Becky G and Karol G, "Mamii"
After years of anticipation, fans finally got to see Becky G and Karol G join forces—and their collaboration resulted in one of the most deliciously cutting breakup anthems of the year. The two singers trade biting lyrics about no-good boyfriends and empower each other over a reggaeton beat with a few Mexican gritos thrown into the production—a touch Becky G championed herself to give the song extra power. —DR
The delirium-tinged second single from the Isle of Wight's biggest indie-rock export Wet Leg balances giddiness and ennui as it tells a self-regarding paramour to take his Buffalo 66 DVD and stick it anywhere else. "Wet Dream"—which got the Harry Styles seal of approval when he covered it at a BBC session this spring—is a high-octane kiss-off song that will inspire fed-up young women for years to come. —DR
Harry Styles, "As it Was"
The first impression listeners gets from Harry Styles "As It Was," is a sample from Styles's goddaughter saying "Come on Harry, we want to say goodnight to you." It puts a warm feeling in your heart. With upbeat synths and drums, "As It Was" lyrically provides a certain melancholic nostalgia as Styles longingly sings. Harry Styles provides contradicting effects on this dreamy record. He contrasts upbeat '80s synths with a sorrowful voice and nostalgic lyrics. And, yet, it works. —DR
Bria McNeal
Associate Staff Writer
Bria McNeal is a Manhattan based journalist who is patiently awaiting B5's revival.
Ammal Hassan
Ammal Hassan is a writer and Esquire's Snapchat Editor.
Matt Miller
Culture Editor
Matt Miller is a Brooklyn-based culture/lifestyle writer and music critic whose work has appeared in Esquire, Forbes, The Denver Post, and documentaries.
Advertisement – Continue Reading Below