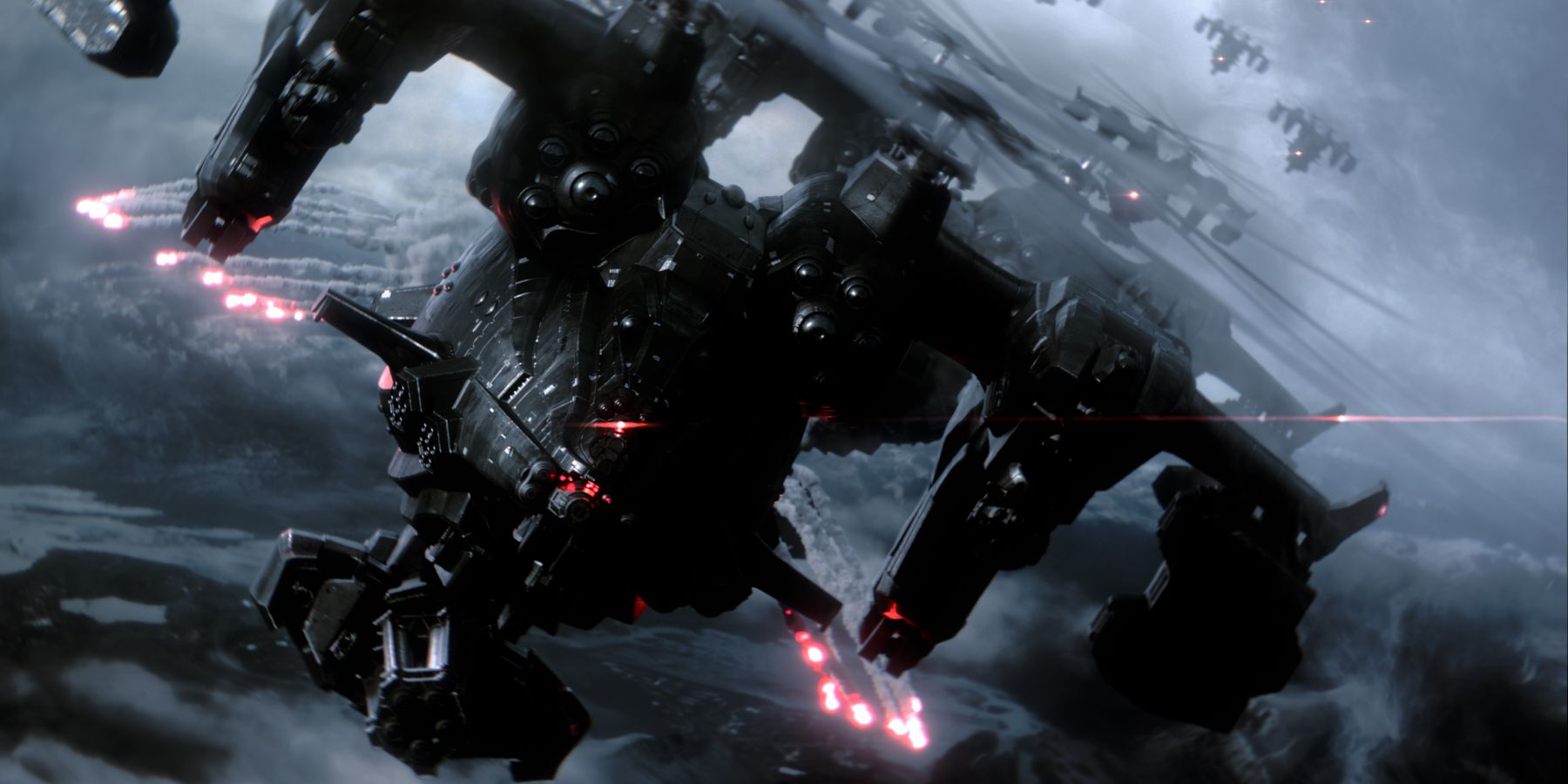 A big Armored Core 6: Fires of Rubicon announcement could be forthcoming, following a curious leak found on the Microsoft Store. Despite its exciting announcement during The Game Awards 2022, FromSoftware and Bandai Namco have held back on sharing much information regarding Armored Core 6. The game remains planned for release in 2023, but some fans have worried a delay could be made soon. The recent Armored Core 6 leak could imply otherwise.
An announcement trailer for Armored Core 6 was shown during The Game Awards 2022. Elden Ring, FromSoftware's most recent game release, won nearly 10 awards during the show including Game of the Year. As such, it was an excellent opportunity to reveal FromSoftware's next game. At the end of the trailer, "2023" was flashed. No further information regarding Armored Core 6 has been officially shared since, leaving fans to question if the reveal was made too early.
RELATED: Armored Core 6: Fires of Rubicon Promises 'Stiff Challenge'
A new leak found on the official Microsoft Store may hint that Armored Core 6 news is quickly approaching. The Xbox profile for Armored Core 6 was recently updated to reveal a new piece of art. More specifically, it was found on the Xbox pre-install loading screen for Armored Core 6. It features a mech, an Armored Core, mostly destroyed and kneeling. Around it is the wreckage of a destroyed city. The skies above it appear aflame, likely resulting from the solar flare-caused apocalypse seen in Armored Core 6's launch trailer.
An additional detail found on the pre-install page is that Armored Core 6 has been updated to version 2.1.0.1. While the version shown doesn't mean anything specifically, that it has a version number at all could indicate an action on Bandai Namco's part implying something moving forward. That's a lot of maybes, but for Armored Core fans it's more than enough to start getting excited for.
The hope is, of course, that Bandai Namco is preparing to officially announce Armored Core 6's release date. A month and day would be a massive improvement over the current unspecific 2023 launch window. Even if it was just a gameplay reveal, Armored Core fans would be more than happy.
The big mystery is when Bandai Namco could make an announcement regarding Armored Core 6, if that is the plan. June would make the most sense, with the Summer Game Fest 2023 and multiple publisher-centric presentations scheduled. If an announcement is to be made before June, it's unclear when. Perhaps Bandai Namco will try to build up excitement prior to the wave of June announcements. Still, Armored Core fans are certain to be hoping they'll know more about Armored Core 6 within the next two months.
Armored Core 6 releases in 2023 on PC, PS4, PS5, Xbox One, and Xbox Series X/S.
MORE: 2023 Could Be a Huge Year for FromSoftware