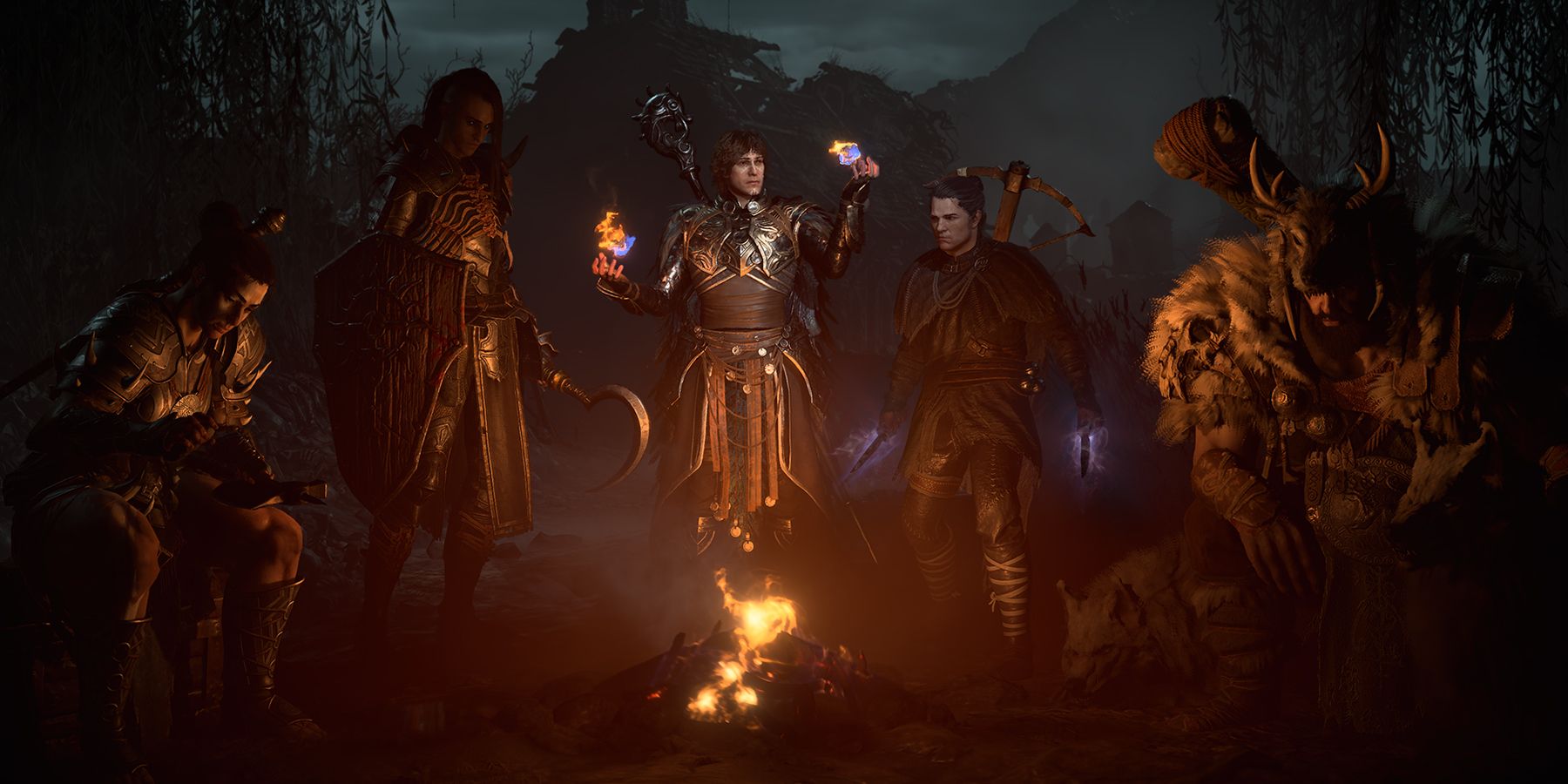 Blizzard may have teased that it's planning to hold another Diablo 4 beta test before the game officially launches on June 6. Taking place over two weekends in March, the Diablo 4 open beta was the largest in the franchise's history, accumulating nearly 62 million hours played in just six days. And of the people who flocked to participate in the beta for the long-awaited action RPG, 2.6 million hit at least level 20 and earned themselves a baby wolf backpack.
Diablo 4 has now officially gone gold and fans of the award-winning franchise are waiting, patiently and not so much, for the game to finally release. But that's a long month and a half away, and many people are wondering what to do in the meantime, other than replay Diablo 2 and 3 for the umpteenth time.
RELATED: World of Warcraft Confirms Diablo 4 Crossover Event Dates
On Twitter, one Diablo fan going by the name littlelizzy86 proclaimed that they were having withdrawals and needed more time with Diablo 4. The official Diablo account replied cryptically, "That can be arranged…" This of course immediately caught the attention of fans, who are hoping the tweet was a hint that there may be another Diablo 4 open beta test planned before the game's launch. However, it's important to keep in mind that, in the past, Blizzard clearly stated that there were only two Diablo 4 beta tests planned.
In addition to being an overall success and pumping up hype for the game, which was already pretty high, the Diablo 4 beta provided Blizzard with helpful player feedback that has since been used to introduce a number of changes. For starters, the difficulty of some of the bosses has been adjusted to make them easier to tackle for melee players. The Butcher, on the other hand, will now be harder to take down in World Tiers 3 and 4.
All of the Diablo 4 character classes have also been tweaked in a variety of ways, covering everything from cooldown, damage output, and Mana cost adjustments, and even a reduction in the brightness of the Necromancer's summoned minions. The layout of dungeons in Diablo 4 also received some optimization as a direct result of beta player feedback. Many people complained that the dungeons required excessive backtracking and the procedural generation caused too much repetition. Blizzard not only responded to those issues, but also reworked some of the dungeon gameplay in general.
Given all these improvements made to the game since the beta, it would be understandable if Blizzard held another beta test or two to make sure players are happy with the changes before Diablo 4 officially launches. It would also serve as an ideal way to draw in even more potential players who perhaps missed out on the first round.
Diablo 4 releases on June 6 for PC, PS4, PS5, Xbox One, and Xbox Series X/S.
MORE: Diablo 4: Class Tier List