Bungie has unexpectedly added Destiny 2's best all-black shader yet, but the wackiness of the way the game handles colors and textures means that it's not quite as simple as it might seem at a glance. Shaders have always been some of Destiny's most coveted cosmetics, as they are universally applicable to every piece of gear in the game short of Exotic weapons, making many of them a must-have for fashion-minded players.
As most Destiny fans will know, however, one of the problems with many of Destiny 2's best shaders is that none of them apply just a single color. Instead, they're essentially thematic bundles of textures, colors, and patterns that are often not correctly communicated by their respective quad-swatch icons. This results in situations where a shader that looks all-black ends up applying random, unexpected colors to particular types of material.
RELATED: Destiny 2 Player Has Collected 100 Bottom Dollars and Might Delete Them All
The latest example of Destiny 2 shaders miscommunicating their functionality comes as part of Season of Defiance's new roster of cosmetics, specifically the Erebos Glance shader that's going to be available as an Eververse Bright Dust purchase from April 24 to May 2. According to the icon for Erebos Glance, it should mainly be a silver shader with purple and black detailing, but Bungie has actually set it up to apply an almost entirely black set of textures with stark orange highlights.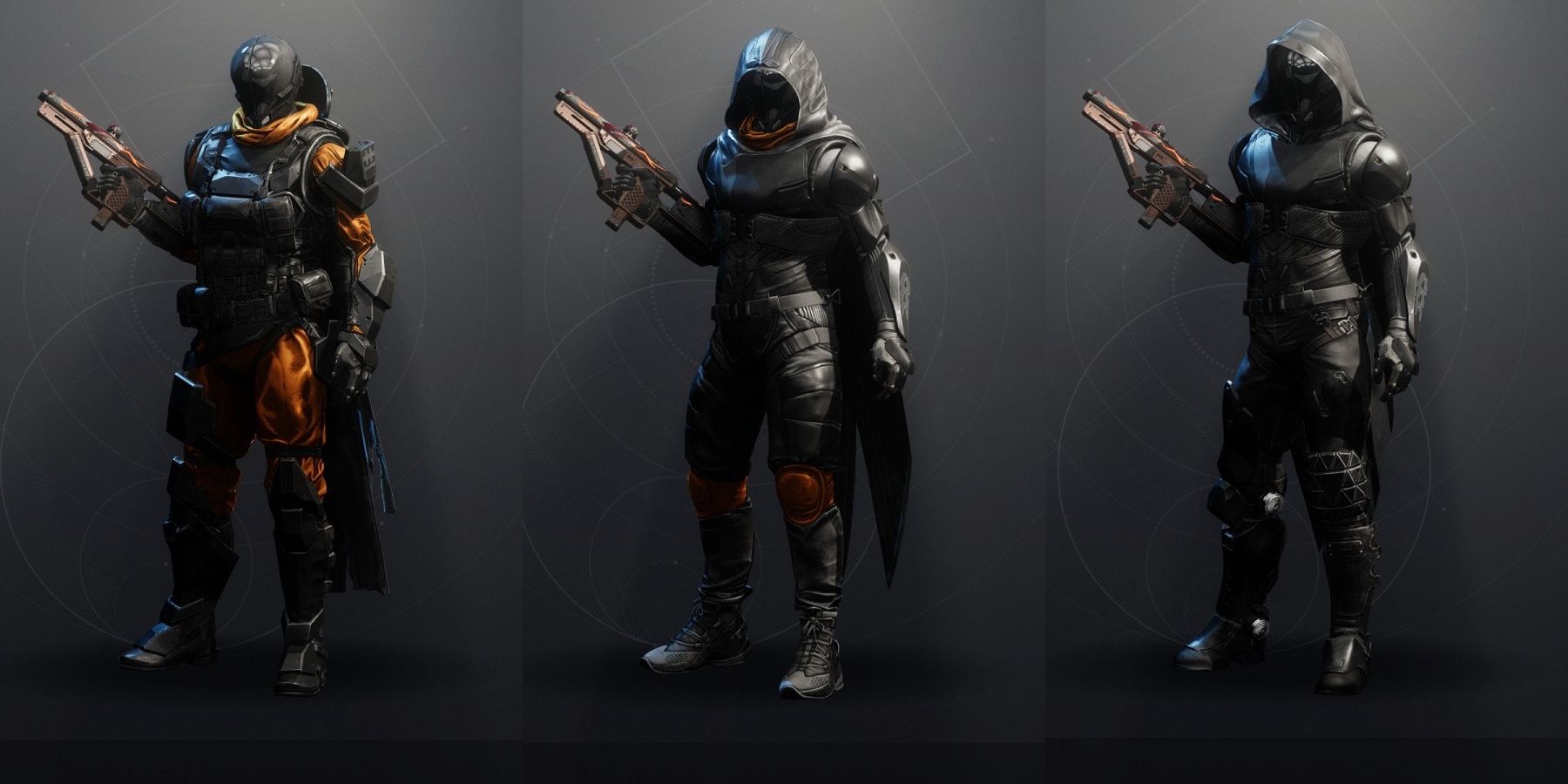 The fact that Erebos Glance is an almost all-black shader is great news, then, for those who wish to set up a stealthy appearance loadout in the game, especially since some Destiny 2 shaders inadvertently apply weird textures out of the blue. Erebos Glance does no such thing, but the issue with its seemingly random orange highlights is that players will need to carefully pick and choose which armor pieces to use, as some of them just won't look good with it.
Fashion-minded players should be able to combine Erebos Glance with Destiny 2's Abyssinian Gold shader to great effect, as it's been the go-to option for those who wanted to get as close to simple, black armor as possible. Overall, the community is likely to enjoy Erebos Glance for its sleek looks, but the fact that its icon doesn't accurately represent its functionality is an obvious concern.
Erebos Glance's availability is another point of contention one must consider, as it's only going to be available for purchase for a single week during the Season of Defiance. It's good that it won't be as difficult or tiresome to unlock as last season's FOMO-heavy Destiny 2 Iron Banner shader, but it will be somewhat exclusive, for sure.
Destiny 2 is available now on PC, PS4, PS5, Xbox One, and Xbox Series X/S.
MORE: Destiny 2's Lightfall proves Season of Plunder Wasn't a Red Herring
Source: Today in Destiny