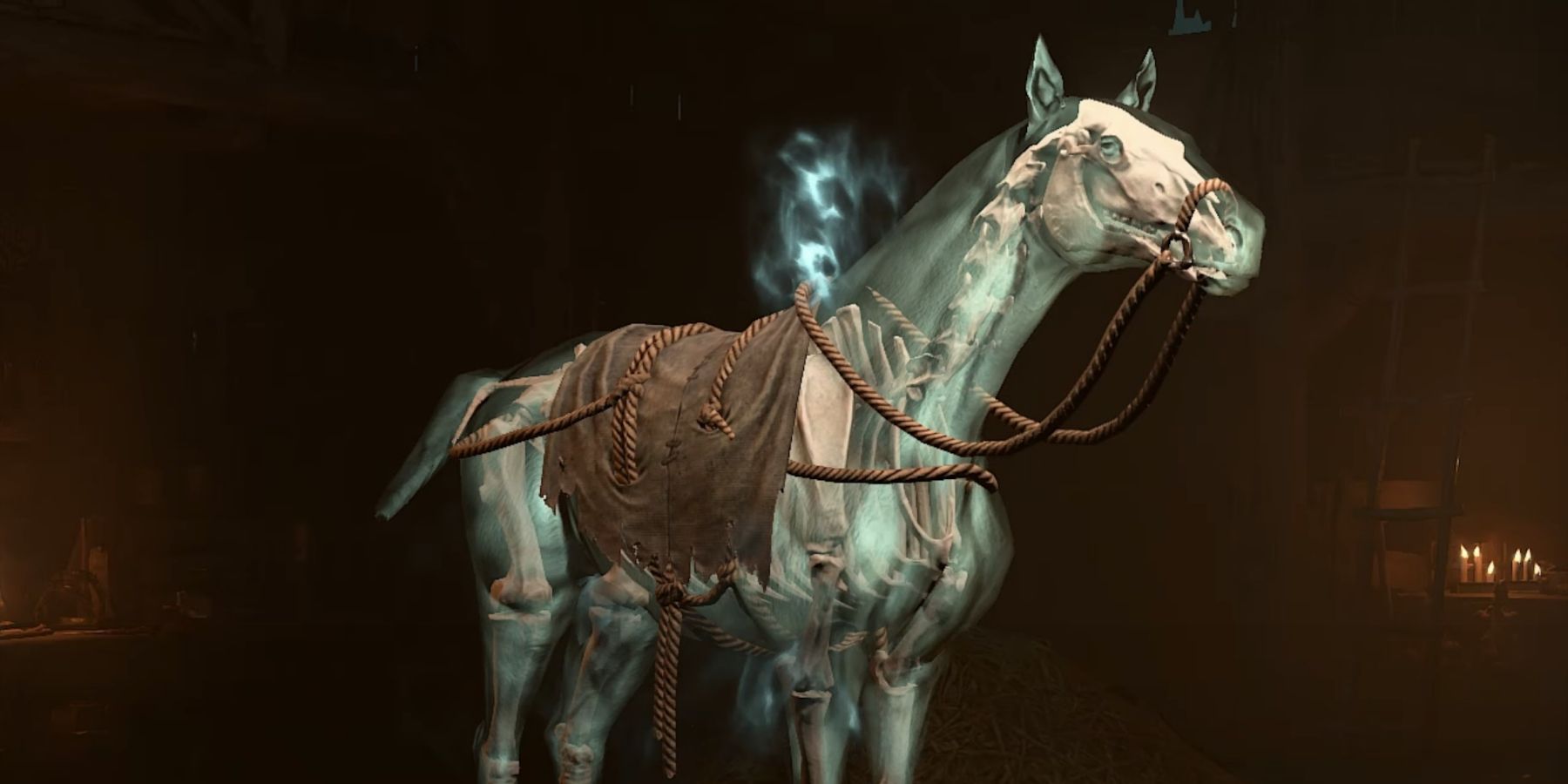 The team behind Diablo 4 has given a sneak peek at new mounts in the upcoming action RPG. According to Blizzard, once players unlock a certain mount with one Diablo 4 character, it will become available to all their characters as they make their way across the desolate world of Sanctuary.
In a recent Diablo 4 blog posting, developers provided a wealth of information about the much-anticipated title, including that players can only unlock a mount after completing the main quest associated with it. Then, the mount will be available for all their avatars regardless of level or game mode. And different mounts aren't the only way to personalize travel: players can also acquire special armor and trophies to decorate their horse's flank or saddle.
RELATED: Diablo 4 Allows the Campaign to Be Skipped, With a Catch
Now, the Diablo 4 Twitter account has released a GIF flashing through various mounts that players can look forward to obtaining. Although the images pass by quickly, some sharp screen-capping reveals various unique designs, including a pale Necromancer-inspired mount, a quasi-burning steed, and one that looks very undead and thus very on brand for Diablo. These designs surely will help bragging rights when the game launches with couch co-op on consoles.
While some may balk at the announcement as purely cosmetic, it's important to note that mount customization actually can improve performance. For example, adding a certain type of armor could decrease damage, while other enhancements might help a mount traverse the game world a bit faster. This is more good news on top of Diablo 4's impressive open beta testing, which was Diablo's largest and most successful ever, earning overwhelmingly positive responses from users who cited combat and atmosphere as dramatically improved from Diablo 3.
Fans are also eager for the Diablo 4 Collector's Box, which has already been sent to select streamers and content creators and contains, among other things, a demonic-looking electric candle and 300 pages of artwork. It's a good time to be a Diablo fan, and the new mounts help seal the deal, along with aiding players in their adventures across the series' first-ever interconnected open world.
And while Diablo 4 fans not in a party are expected to rarely encounter other players while exploring outside of towns, the game likely will be supported for many years, so player counts could be adjusted for those expecting an MMO that's a more social experience. At least Sanctuary is actually supposed to be desolate – maybe the real reason for the flashy mounts is simply so players have some company along the way.
Diablo 4 launches June 6 for PC, PS4, PS5, Xbox One, and Xbox Series X/S.
MORE: Diablo 4's Capstone Dungeons Need to Sidestep a Common Multiplayer Pitfall