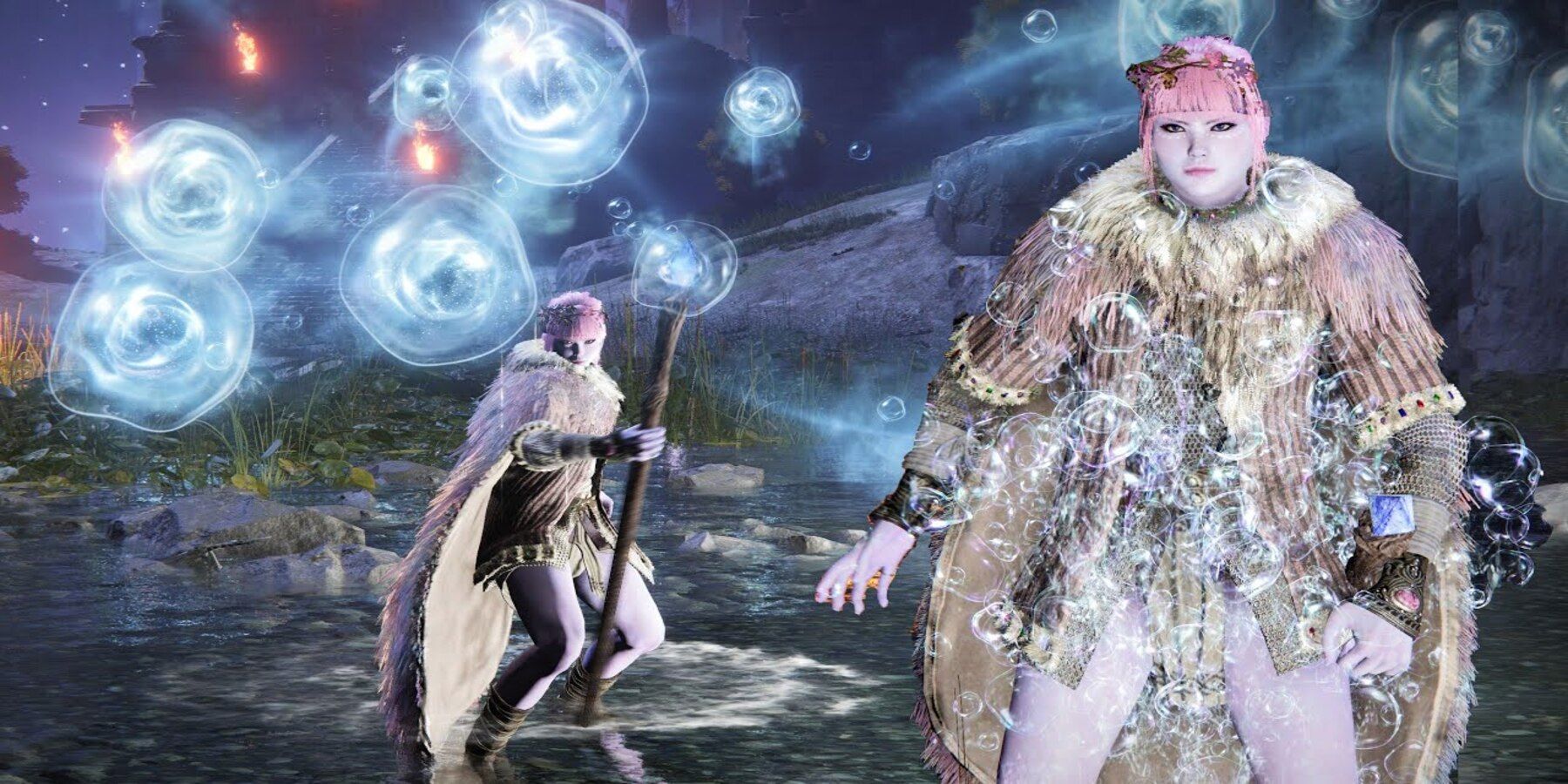 One Elden Ring player recently showcased their hilarious hygiene based character on the internet, whom they named "Lavender the Soap Sorceress." Elden Ring has a versatile character customization system that allows for players to make wildly varied builds that range from standard to quite comical. Players have shared builds based on jars and even Rocky Balboa in the past, and now Lavender joins the ranks of Elden Ring's more humorous custom characters.
Elden Ring has a wide array of weapons, sorceries, and armor that players can use during their journey across the game's open world. Among these aforementioned sorceries are spells based on certain enemies from the game, such as the Godskin Apostle's blackflame magic and Unseen Form, which is used by the various Black Knife assassins to appear invisible. One Elden Ring fan took to Reddit to share their own enemy sorcery based build, that comes with a hilarious twist.
RELATED: Elden Ring Player Defeats Fire Giant With 'Squidward Build'
Reddit user bsmiff shared a lengthy video clip of their custom character, Lavender, in action. The build uses bubble based magic, commonly used by the various Oracle Envoys that players fight, along with the soap consumable. After each fight bsmiff has their character use soap to clean herself, adding a humorous element to the hygiene based character. Another interesting detail is the fact the character sports the name "Lavender the Soap Sorceress," clearly demonstrating the character's emphasis on cleanliness.
Commenters on bsmiff's post shared their thoughts regarding the hilarious build as well as some slight confusion about how the build seems to actually be viable. One Reddit user writes "alright this whole soap thing is hilarious," to which bsmiff responded with a singular soap emoji. Another commenter noted that they "love invaders that make themed builds like this." It's apparent from reading the comments that many Elden Ring fans find bsmiff's build unique, and quite entertaining. Based on the reaction that Lavender received from online audiences, it wouldn't be a surprise to see her join the ranks of other famous comical Elden Ring characters such as one fan's Judge Judy build.
Elden Ring players have shared all kinds of interesting builds online, thanks to the depth of customization that FromSoftware's latest title offers. While Elden Ring is known for its immense difficulty and cinematic boss encounters, its level of freedom in determining a character's play style should also be recognized. Fans of the open world title have no shortage of options when deciding how they want to experience the Lands Between.
Elden Ring is available on PC, PS4, PS5, Xbox One, and Xbox Series X/S.
MORE: Elden Ring's Shadow of the Erdtree DLC Should Make Torrent More Than a One-Trick Pony.