A Genshin Impact fan has shared an interesting concept that features the Dendro Archon Nahida as a Pokemon TCG card. The game's community is known for creating various types of fan-art that take some of the characters from the playable roster and implement them in completely different environments.
Since her first appearance in the official Sumeru storyline, Nahida, also known as Lesser Lord Kusanali, has become one of the most popular characters in Genshin Impact. As the Dendro Archon, Nahida serves as Sumeru's main protector, and she was the main character in the recent story arc.
RELATED: Genshin Impact Artist Creates Mecha Skin for Nilou
A Reddit user by the name duanato has shared an impressive fan-art that features the Dendro user Nahida in a Pokemon TCG card. Fans seem to like the concept as the thread gathered over 1.4k upvotes on the game's official subreddit. The card's effect will allow the player's Active Pokemon to heal 50HP for the next 5 turns. According to the description, the effect is stackable if used within these 5 turns. Some fans have pointed out that they like the fact that Nahida is weak against Pyro considering that Pyro and Dendro can be interpreted as Fire and Grass in the Pokemon world. The only complaint in the comment section is that she should not be a healer since Nahida's kit in Genshin Impact does not provide any healing.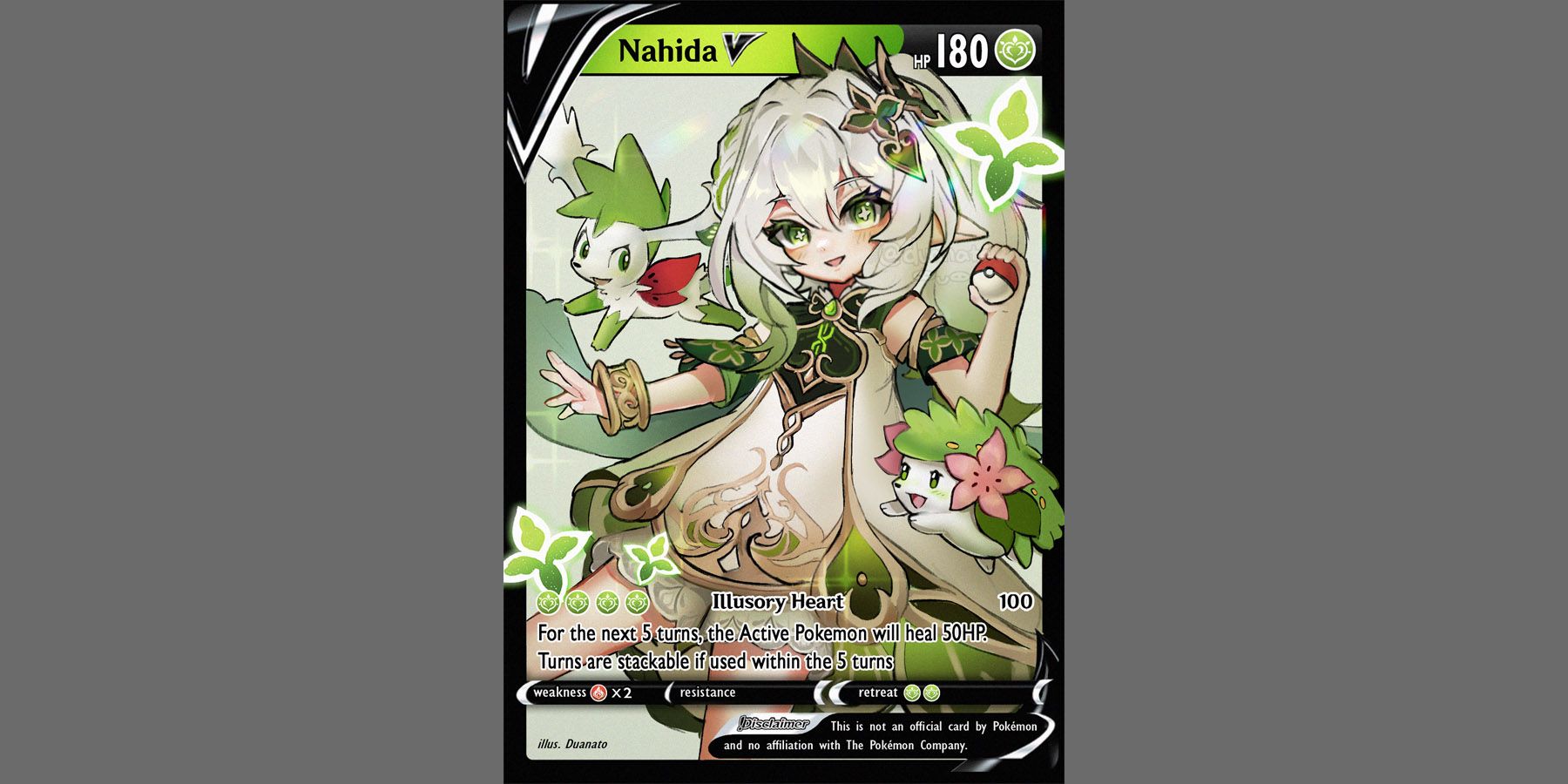 A lot of players claim that HoYoverse should make a real-life version of Genshin Impact's recently released TCG mode named Genius Invokation. This mode allows players to duel NPCs or each other with cards that depict the game's characters. Similar to the game's main combat system, players use elemental reactions and character abilities to battle against enemies which means that having a team with great synergy is crucial.
Players who want to add Nahida to their roster will, unfortunately, have to wait for a couple of months since she was recently featured on a Limited Character Banner alongside Nilou. She is widely considered the best Dendro character in the game who can dish out tons of damage and provide a lot of utility.
Just like the three other Archons, Nahida's main strength lies in her ability to adapt to almost any team composition in Genshin Impact. Her Elemental Burst, Illusory Heart, which is also the name of the card's effect, allows Nahida to create a Dendro dome that provides different buffs depending on the element it interacts with.
Genshin Impact is now available on Mobile, PC, PS4, and PS5. A Switch version is in development.
MORE: Genshin Impact: All Boss Guides – Weekly Trounce Bosses and Normal Bosses
Source: Reddit