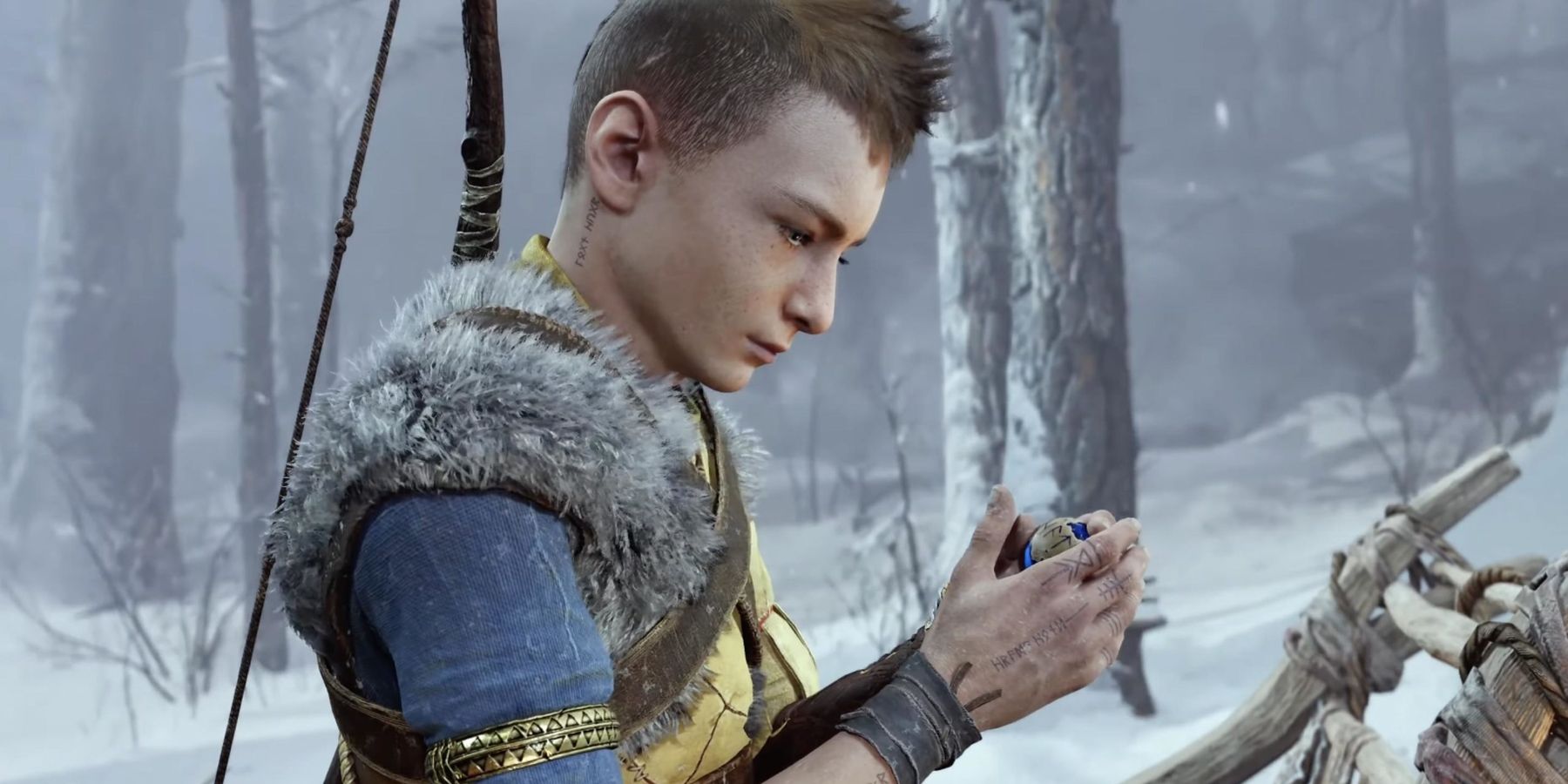 A fan of Santa Monica Studios' acclaimed God of War Ragnarok captured a clip of a bizarre bug that saw Kratos' son and sidekick Atreus get stuck endlessly leaping between ledges. Though certainly not the first God of War Ragnarok glitch to be captured by players, it definitely makes for one of the funnier ones. The hit game recently received its latest update following the addition of a New Game+ mode earlier this month, with Update 4.02 for God of War Ragnarok bringing fixes for some bugs still present in the PlayStation title.
Released for PlayStation 4 and 5 in late 2022, God of War Ragnarok is the ninth and latest action-adventure outing for the demigod Kratos. Expanding on its predecessor, 2018's critically acclaimed God of War, the sequel sees Kratos and his son Atreus exploring all Nine Realms of Norse mythology as they make their way through an epic storyline filled with gods, monsters, and other magical creatures. Like in the first game, Kratos is aided by his son Atreus, who also takes a starring role in solo missions interspersed throughout the game. Responding to player complaints about the teenaged sidekick's sometimes annoying habit of offering unprompted assistance throughout the game, recently the voice actor who portrayed the character said even they get sick of hearing Atreus' puzzle hints in God of War Ragnarok.
RELATED: God of War Ragnarok Atreus Actor Discusses Atreus' Future
A new video posted to r/GodofWar by Redditor ArthurMorgan9 shows Atreus caught in a hilarious loop, with the talkative teen seen bouncing endlessly back and forth between two ledges. The clip begins with Kratos fighting an enemy in the distance, quickly dispatching them as Atreus can be heard struggling in the background. Turning around to see what the commotion is about, ArthurMorgan9 captures Atreus jumping repeatedly from ledge to ledge across a narrow gap in a bizarre and amusing fashion. Atreus apparently isn't the only God of War Ragnarok character prone to repetitive behavior, though, as another recent clip shows Dwarven blacksmith Brok endlessly bashing an immortal Draugr.
Redditors responding to the unusual glitch seemed amused by the clip, with one response joking that Atreus was "getting those wind sprints in." One commenter replied to share that they had encountered the same bug when playing through God of War Ragnarok, stating that Atreus thankfully stopped his bizarre behavior as soon as Kratos himself hopped across the gap. Another Redditor recounted a bug where, rather than embarking on an impromptu acrobatic routine, their Atreus began randomly shooting at a tree.
This hilarious clip shows that, even with years of polish and a steady stream of patches, even AAA game developers can't catch every single bug. Luckily, unlike another recently posted God of War Ragnarok glitch that saw Kratos endlessly plummeting into a misty abyss, at least this one wasn't game-breaking.
God of War: Ragnarok is available now on PS4 and PS5.
MORE: Final Fantasy 16's Valisthea Seems to Have Plenty in Common with God of War Ragnarok's Nine Realms