Google surprises fans of Nintendo's recently-released inking shooter, Splatoon 3, with a neat little Easter egg hidden on the site.
Google has charmed fans of Nintendo's latest inking shooter, Splatoon 3, with a little Easter egg. Though Splatoon 3 launched a month ago, it seems the company has chosen to celebrate the colorful game now, and attentive fans have taken notice.
On occasion, Google has special little Easter eggs hidden away on its website. Sometimes they're as simple as a unique version of the Google logo, while others can require hunting around in order to trigger the Easter egg. In this particular instance, it's an easy Easter egg to trigger, but many would likely never know it was there if they weren't told about it first.
Over on Google's main search page, fans have noticed that if a user searches for Splatoon, Splatoon 2, or Splatoon 3, the website will load the Easter egg. Once the search page appears, fans should just wait just a moment and they should notice a bunch of ink splats appearing on the screen, near the description of the game. It'd be a cute nod to the game's inking mechanics on its own, but if someone taps on the ink on the screen (desktop or mobile devices), they'll discover that they can ink the entire screen in the colors of the Google logo, similarly to trying to cover the most turf in Splatoon 3. Another button on-screen will let users wipe away the ink and browse normally or start splatting all over again.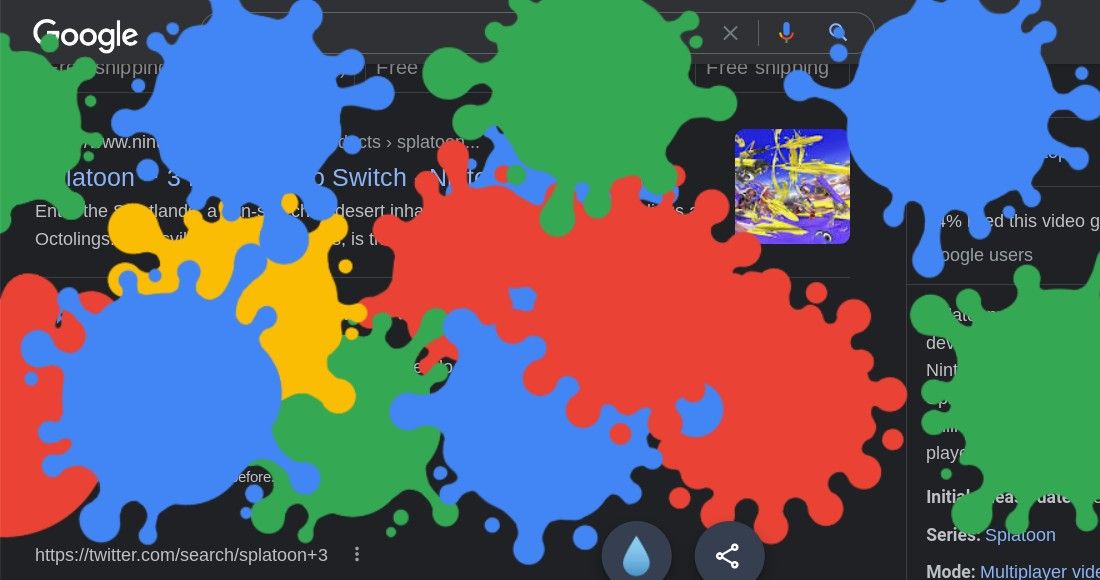 Splatoon 3 has sold extremely well so far, though it's not clear if that has any connection to the search engine behemoth adding a reference to the game. Splatoon 3 did announce the next planned Splatfest, which will focus on the three upcoming Pokemon starters in Pokemon Scarlet and Violet. However, a Splatoon live performance is also going to occur over the weekend, so that could also have influenced the timing of this Easter egg. On the other hand, perhaps it's just a belated nod to the series' latest release.
It's a pretty exciting time to be a Nintendo fan in general, with the new Super Mario Bros. movie trailer dropping recently and Pokemon Scarlet and Violet's release date being just around the corner. While Inklings and Octolings gear up to determine the best Pokemon Scarlet and Violet starter via turf war, anyone can enjoy the Google Easter egg. There's no way to tell how long it will last, though, so fans who want to check it out should do so soon.
Splatoon 3 is available now for Nintendo Switch.
MORE: Marie's Podcast Is a Perfect Real-World Marketing Opportunity for Splatoon 3Source: Google