A Resident Evil Village player discovers a neat trick that makes reloading weapons in VR mode significantly faster and thus less stressful.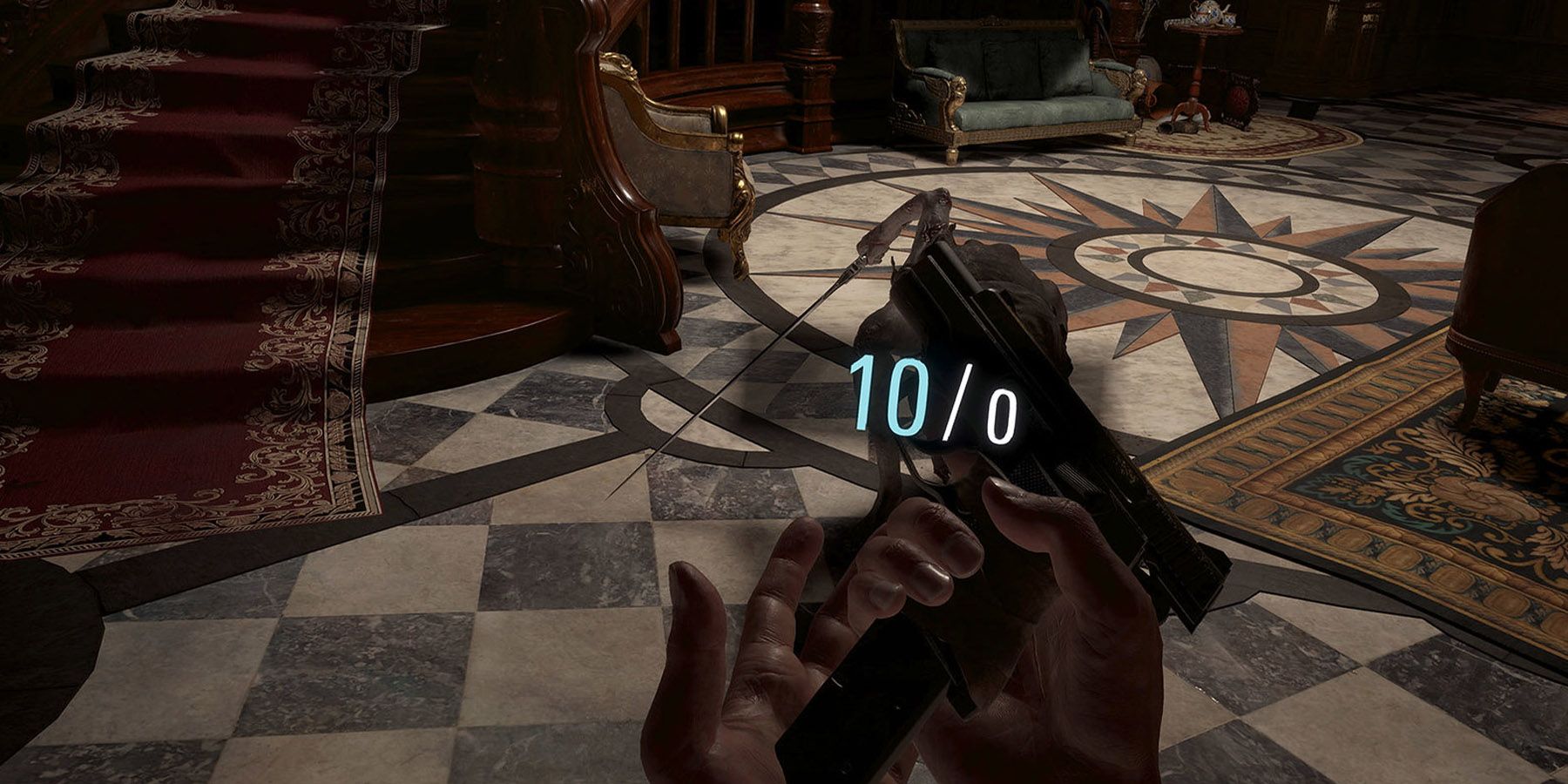 One Resident Evil Village player has stumbled upon a neat trick that makes reloading weapons in VR a lot faster. Their discovery can make surviving the recently debuted Resident Evil Village VR mode a lot less stressful, depending on the exact playing style.
While the latest mainline game in the long-running horror franchise released back in mid-2021, its VR mode has only been out since late February. Thanks to this PlayStation VR2-exclusive feature, Resident Evil Village was among the few dozen launch titles for Sony's second-generation virtual reality headset.
RELATED: Resident Evil 7 Streamer Beats Game in Public Library
And while many fans are still learning just how many Resident Evil Village moments are much scarier in VR, one player has recently taken to social media to share a neat trick that makes reloading much faster for anyone playing the game on Sony's latest headset. The technique only applies to single-shot weapons such as shotguns, which need to be reloaded one bullet at a time. But as it turns out, that doesn't mean the player has to grab slugs from their belt one by one. In fact, the very action of reaching down to get the ammo appears to imply the protagonist is grabbing a handful of bullets, as single-shot rifles can be reloaded by doing that only once, and then wiggling the hand holding the slugs until the weapon's magazine is fully refilled.
The Resident Evil franchise has been on quite a roll over the last few years. After following up on Village with a more polarizing multiplayer experience Resident Evil Re:Verse released in 2022, Capcom is already wrapping up work on a remake of Resident Evil 4. The latter is scheduled to hit PC and consoles on March 24 as the series' sixth game in the last four years.
Much like Village, Resident Evil 4 Remake will feature a VR mode exclusive to the PS VR2. While it remains to be seen whether Capcom's VR partnership with Sony continues following that game's release, fans of immersive, terror-rich entertainment have plenty of other titles to look forward to, as the PS VR2 launch window isn't lacking in horror games.
As for what's next for Capcom's iconic franchise, a remake of Resident Evil 5 might be on the cards for 2024, seeing how that title will be pushing 15 come March. Beyond that, the mainline installments in the series have been following a four-year development cycle fairly consistently over the last two decades, suggesting that a direct sequel to Resident Evil Village might arrive as early as 2025.
Resident Evil Village is available now on macOS, PC, PS4, PS5, Xbox One, Xbox Series X/S, and Switch, while its VR mode is exclusive to PlayStation VR2.
MORE: The PS5 Cleared the Path for a Successful PS VR2 Launch