RRR star Ram Charan is eyeing the Marvel Cinematic Universe and Mission: Impossible franchises, and he's also fond of Quentin Tarantino.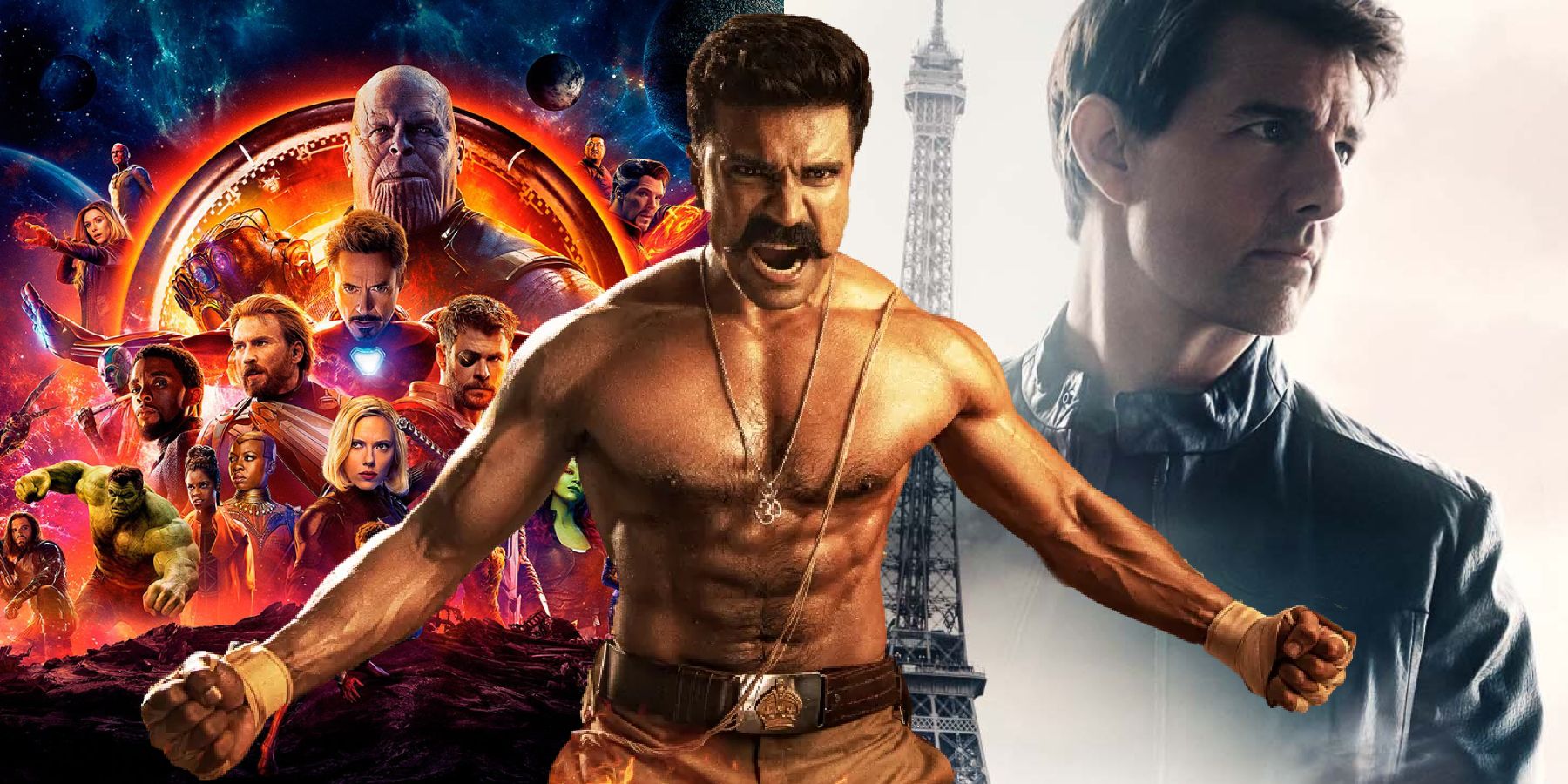 RRR was one of 2022's breakout films, and the same might apply to Indian cinema stars Ram Charan and N.T. Rama Rao Jr. The former is now setting his sights on Hollywood and putting big names like Marvel, Mission: Impossible, and Quentin Tarantino at the top of his wishlist.
For over a decade, Charan has been one of the most recognized actors in Tollywood, the other side of India's movie industry besides Bollywood. He starred in many notable Telugu language action films, including Magadheeram and Rangasthalam. Now, Netflix's RRR has given him plenty of recognition outside his native country. For anyone who's seen RRR, Charan's ambition won't sound outlandish at all, as the movie more than proves the actor's action chops at the highest level.
RELATED: The 20 Best Thanos Quotes That Make Every Marvel Fan Shake
In an interview with The Hollywood Reporter, Charan expressed his excitement over RRR potentially creating more crossovers between Indian cinema and Hollywood, naming Marvel and Mission: Impossible as the two franchises he loves the most. "I'm a big fan of Tony Stark. The youngsters follow these Marvel stories so closely, and it's a huge franchise in India," Charan said. If Charan were to name one director he'd love to work with in America, he doesn't hesitate to say, "Quentin Tarantino. He's my favorite. I love him. He's quirky. He's out of the box, and I just love him. I've been watching his movies since I was a kid." Frankly, all three seem like a fitting choice for the Indian star.
During the interview, Charan also expressed his desire that Indian cinema would stop being divided by language barriers. Charan said RRR's awards season campaign was meant to promote "the sense of having one film industry called the Indian Film Industry." Despite being written by S.S. Rajamouli as a standalone film, Charan and NTR will be back for an RRR sequel that's already in development.
Lastly, Charan also expressed his disappointment over RRR not nailing India's Best International Film nod at the Oscars nor the Best Picture award many were campaigning for, though it does have a chance at bringing home a win with "Naatu Naatu" being up for Best Original Song. Charan's action scenes in RRR, especially the opening sequence, have marveled many, including James Cameron, who turned into a confessed Rajamouli fan after watching the movie two times in awe of his fellow filmmakers' work.
Mission: Impossible – Dead Reckoning might mean it's too late for Charan to realize that dream, but since Marvel still has the X-Men in store, there are plenty of roles that he could audition for in the future to become a real superhero once and for all.
RRR is currently available on Netflix.
MORE: Why S.S. Rajamouli's RRR Is 2022's Must-Watch Movie
Source: The Hollywood Reporter