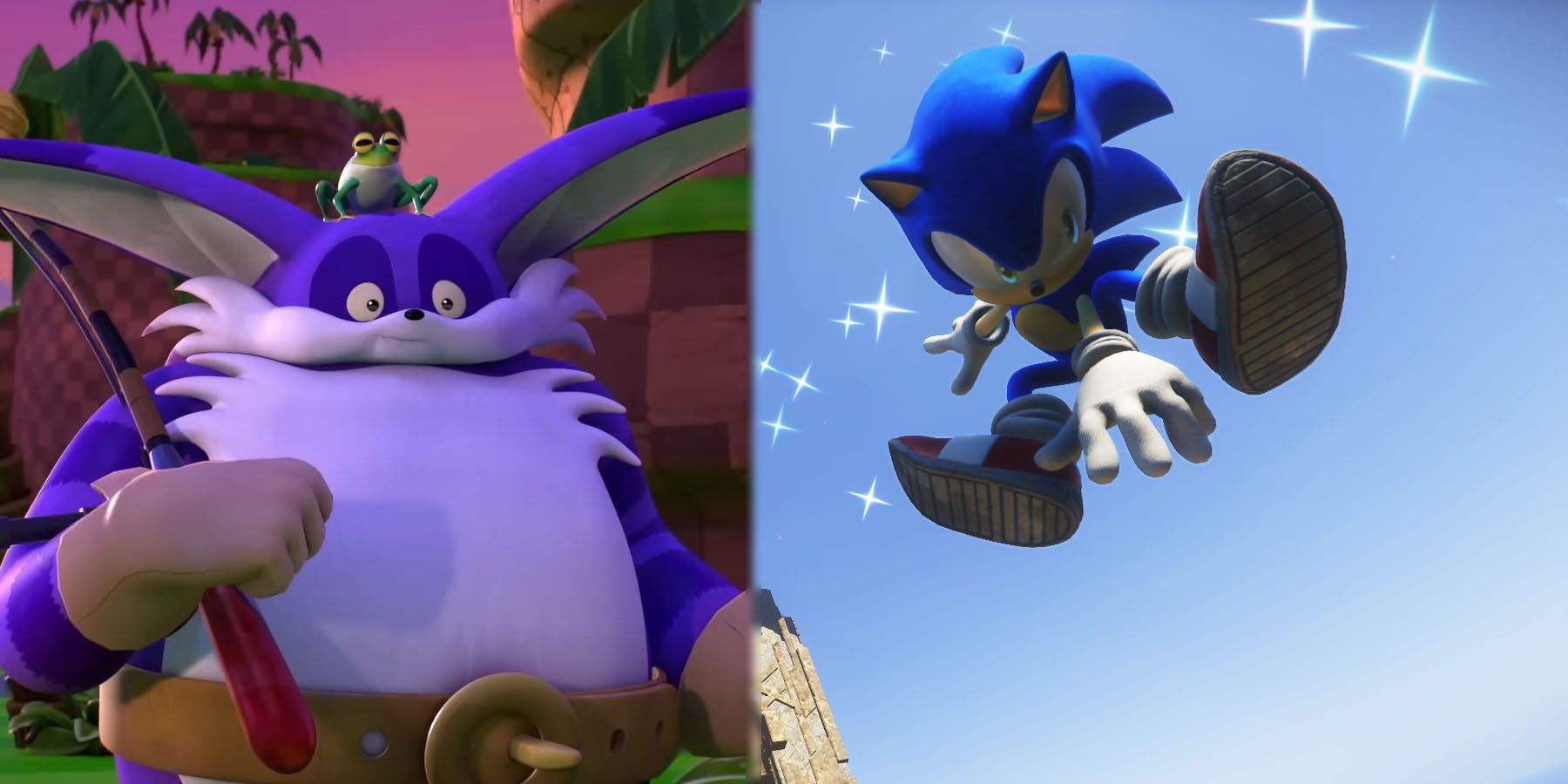 Preview screenshots and videos of Sonic Frontiers have showcased a number of things that can be found in Big's Fishing Minigame. This latest next-gen title for the Sonic franchise is less than two weeks away from release, with it also being the first time it is tackling a semi-open-world adventure. Plenty of fans are hyped for Sonic Frontiers, with others cautious about its release due to its shaky first impressions. Subsequent demos and videos have put the game in a more positive light, with fans getting a much clearer picture of what to expect from the game.
With Sonic Frontiers, the focus is on the open-zone gameplay, where gamers can run around as Sonic to collect a variety of items to unlock the next island. Aside from collecting items and fighting enemies, a variety of other activities are available for the player to participate in, such as minigames and side-quests. One of these minigames involves Big the Cat, where players can relax for a bit and fish on the Starfall Islands.
RELATED: Sonic Frontiers File Size Revealed
While Sonic Frontiers fans have managed to find Big and his fishing minigame in demos, a video from ShackNews gives a much more extensive look at it. Sonic is bewildered at Big's sudden appearance on the Starfall Islands, where the purple cat is just looking for a simple place to do some fishing. Sonic, remarking that he could relax, takes Big up on his offer and learns how to fish. Players simply need to press the button so that the white circle is within the red one, where Sonic will then pull up whatever he caught.
Depending on what fish has been caught, players will be awarded a token, which can then be exchanged for treasure that Big has found. This includes Chaos Emerald Vault Keys, Rings, Memory Tokens, and other items. Players can continue fishing with Big by finding purple coins that are on the Starfall Islands.
The video and subsequent screenshots from social media show off not only fish but other strange items that can be found in the waters. This includes Badniks, stone tablets, and even a Ring. These are all recorded in a Fish-o-pedia that can be viewed at any time. The music that is present in Sonic Frontiers' fishing minigame has a relaxed LoFi vibe, fitting for the activity. Longtime fans however recognized that whenever Sonic caught a fish, it would play a small jingle that was also associated with Big's gameplay in Sonic Adventure. Fans have embraced this side activity warmly, with many citing how fun the interactions between Sonic and Big were in this minigame as well.
Sonic Frontiers launches on November 8 for PC, PS4, PS5, Switch, Xbox One, and Xbox Series X/S.
MORE: Every Character Confirmed for Sonic Frontiers So Far