One of my writing mentors used to preach that a good title should be epigraphic of its content, should point toward what's inside the text. In the intervening years, I've learned that great titles are also metaphoric or symbolic; they point toward what's outside them, too.
All of this is to say, titling is no easy task.
Case in point: My debut novel had at least five working titles, one of which I was so sure about, I got it tattooed on my chest. Case in point: My second book had a different title than what was eventually chosen for most of the several years that I drafted it.
But this title, Fly (The Big Book of Basketball Fashion came a bit later), well, once we said it, it seemed like it had been a thing waiting for us to discover all along. By we I mean one of the book's editors and I, who sat in a restaurant passing titles back and forth—maybe it took thirty minutes; maybe it took an hour—until one of us said, "What about Fly?" and we lit up in head-nodding agreement.
Fly because it conjured up so many memories of players' on-the-court astonishments. Fly because it bespoke not just fashion, but high fashion; not just getting dressed, but doing it with intent and aplomb. Fly because, like the very best titles, it points inside and out.
Fly, you see, is a worthy aspiration.
Fly: The Big Book of Basketball Fashion, at its heart, is a book about celebrating the glorious evolution of NBA fashion. But I couldn't write about fashion without considering the cultural and political phenomena that bring it into being. This cover, with its collage of images and vibrant colors, heralds the high style in its pages, looks shaped by the exigencies of its eras. Fly is a book for people who love basketball and the NBA, for people who love fashion, for those who care about what shapes America.
---

Excerpted from Fly: The Big Book of Basketball Fashion by Mitchell S. Jackson. Artisan Books © 2023."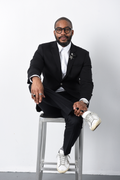 Mitchell S Jackson is a contributing writer for Esquire. He is the winner of a Pulitzer Prize and a National Magazine Award as well as the acclaimed author of the memoir Survival Math, and the award-winning novel The Residue Years.