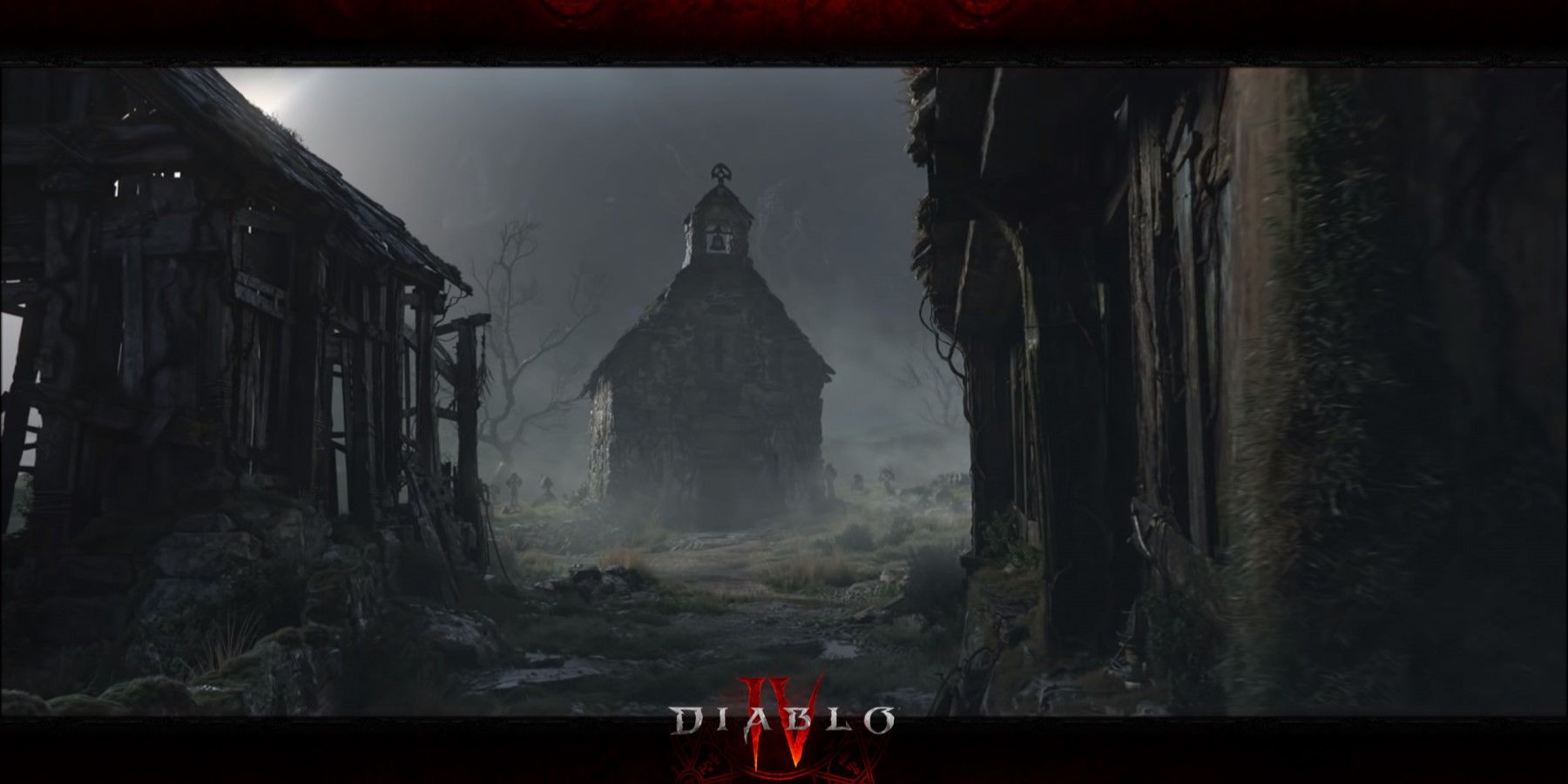 Diablo 4 just opened the doors to a real-life church dedicated to the demonic world of Sanctuary. This limited-time art installation showcases the incredible artwork of Diablo 4 in a truly unique way.
The sequel to the popular Blizzard action RPG series is releasing soon, with early access on June 2 and its full launch on June 6. Players will return to the world of Diablo at one of its darkest periods in history as they are thrust into the middle of the ancient enmity between the demon Lilith and the angel Inarius.
RELATED: Diablo 4 Reveals Upcoming Developer Livestream to Detail Post-Launch Content
Now, Diablo 4 fans can bear witness to the legends of Sanctuary in an all new way. Blizzard collaborated with Baroque artist Adam Miller to transform a real-life church into the Cathedral of Diablo. The chapel has been covered with 20 paintings spanning 2,400 square feet of canvas depicting the angels, demons, humans, and nephalem of Diablo history in breathtaking detail. If fans can make it to Cambrai, France, they can see this art installation for free from now until June 11.
The Cathedral of Diablo was made in the Chapelle des Jesuites, an old chapel that had been used as a place of worship, a prison, and even a troop barracks since its construction in 1692. The church was officially deconsecrated and secularized in 1958, when it then began serving as a museum dedicated to religious art. Given the religious themes of Diablo 4, the Chapelle des Jesuites made the perfect venue for this art installation.
This real-life art installation first appeared in the live action Diablo 4 beta trailer. Narrated by Game of Thrones star Charles Dance, this short video showcased some of the fantastic art found within the exhibit. Fans who aren't able to see the immaculate Cathedral of Diablo in person can at least enjoy a taste of it via this chilling trailer.
Though Diablo 4 is coming out soon, players will have one last chance to delve into Sanctuary before its official release. Diablo 4 recently revealed a Server Slam stress test would be taking place from May 12-14. In addition to the existing beta participation awards, players can also earn the Cry of Ashava mount trophy for beating the eponymous world boss with a level 20 character during the event. Every fan might not be able to make it out to see the Cathedral of Diablo in France, but this final beta event is free for everyone, so all players can spend Mother's Day weekend with the Mother of Sanctuary.
Diablo 4 launches on June 6 on PC, PS4, PS5, Xbox One, and Xbox Series X/S.
MORE: Diablo 4: May 2023 Server Slam Beta Weekend Dates and Times